Az üzleti évünk július 31-ével véget ért, és büszkén prezentáljuk (Önöknek) az éves beszámolónkat: a Pöttinger sikeresen 308 millió euróra növelte éves forgalmát a 2016/2017-es költségvetési évben. Emellett, a következő szezonra további innovációkkal készültünk, ami az ekéink tárházát illeti.
Although conditions in the agricultural machinery sector continued to be difficult, the family-owned Austrian firm of Pöttinger was able to increase sales by 2 percent to EUR 308 million in the last financial year.
In the 2016/17 business year, prices for agricultural produce – in particular milk and grain – remained relatively low equating to stagnant income levels for most farmers. This was reflected in cautious level of investment. However, thanks to an innovative product portfolio and the steady expansion of its international activities, Pöttinger was able to offset this general market development and increase sales of machinery and spare parts by 2 percent. In doing so, the family-owned Austrian company was able to record sales of EUR 308 million with a workforce of around 1,700 employees.
Positive trend in grassland
With 58 percent, grassland is the most important sales sector, followed by tillage and seed drill technology with around 27 percent. Compared to the year before, Pöttinger achieved an increase of 5 percent in the grassland sector. In tillage and seed drill technology, on the other hand, market conditions were very difficult: grain prices were under severe pressure throughout the whole year. This affected machinery sales which recorded a slight fall. Compared to the year before, the original spare parts business made a positive contribution (plus 5 percent), with the new spare parts logistics centre accounting for a significant share.
Some markets felt the difficult market conditions more strongly while others developed positively: the top 5 countries where sales increased – in terms of absolute figures for machinery sales compared to the year before – are the export markets Ukraine, Great Britain, Sweden, Australia and the Czech Republic. In terms of sales growth as a percentage, on the other hand, the export markets Sweden, Belarus, Denmark, Ukraine and Australia recorded above average increases.
Rooted in Austria, at home in the world
International markets continue to be central to Pöttinger's success and act as growth engines: The export rate of 88 percent and turnover accrued from international sales of approximately EUR 270 million show their enormous importance.
Approximately 60 percent of sales is achieved in six countries: Germany, France, Austria, the Czech Republic, Switzerland and the Ukraine. Besides Germany with around 18 percent and Austria with around 12 percent, France, with a 13 percent share of total sales, is one of the largest and most important individual markets. Compared to the year before, sales in Austria have fallen slightly, but despite this the Austrian quality provided by Pöttinger is still in great demand from the country's farmers. With an increase of 41 percent, sales in the Ukraine have developed very positively.
Investing in tomorrow's success
To keep pace with the expansion of international sales markets and the constantly growing demands made on agricultural machinery, Pöttinger has invested vast sums in its facilities in recent years: The seed drill plant in Bernburg (DE) and the machinery plant in Vodnany (CZ) have both been expanded and updated to the very latest standards. Innovative administration offices have been built at the company's headquarters, setting a new course for the future. With investment costs of EUR 25 million the production layout has been reorganised: Adding 12,000 sqm of space for manufacturing and logistics designed to support future growth.
In addition a new plant in St. Georgen near Grieskirchen (AT) being planned. With the planned harvesting equipment production plant Pöttinger further strengthens its commitment to Austria. The first phase of the plant will start production as soon as 2021.
Besides  machinery, the prompt supply of spare parts is central to the success of farmers and contractors. That's why an efficient logistics concept at Pöttinger is necessary for the best possible customer service and is therefore a key success factor. It is for this reason that Pöttinger invested EUR 14 million in a new, hypermodern logistics centre for spare parts in Taufkirchen (AT) last year. The state-of-the-art logistics centre guarantees optimal availability of the approximately 50,000 spare and wear parts stored there. Every day, up to 800 customer orders are processed, and 3.5 million items of various kinds are shipped worldwide every year.
In addition, the continual expansion of the product range, most recently with the IMPRESS round baler line, is a vital part of Pöttinger's growth strategy.
Fit for the future
"When we develop products we think in our customers' dimensions," says management spokesman Heinz Pöttinger. "A high level of crop and ground protection, outstanding working results, operational safety and cost-effectiveness. Because our focus is always on the customer we have become international specialists in the forage harvesting, tillage, seed bed preparation and seed drill technology sectors whose products are not restricted to just one tractor brand." He goes on: "With our investment in our production facilities and technology we are fit for the future and will continue to pursue our successful strategy in cooperation with our customers and sales partners."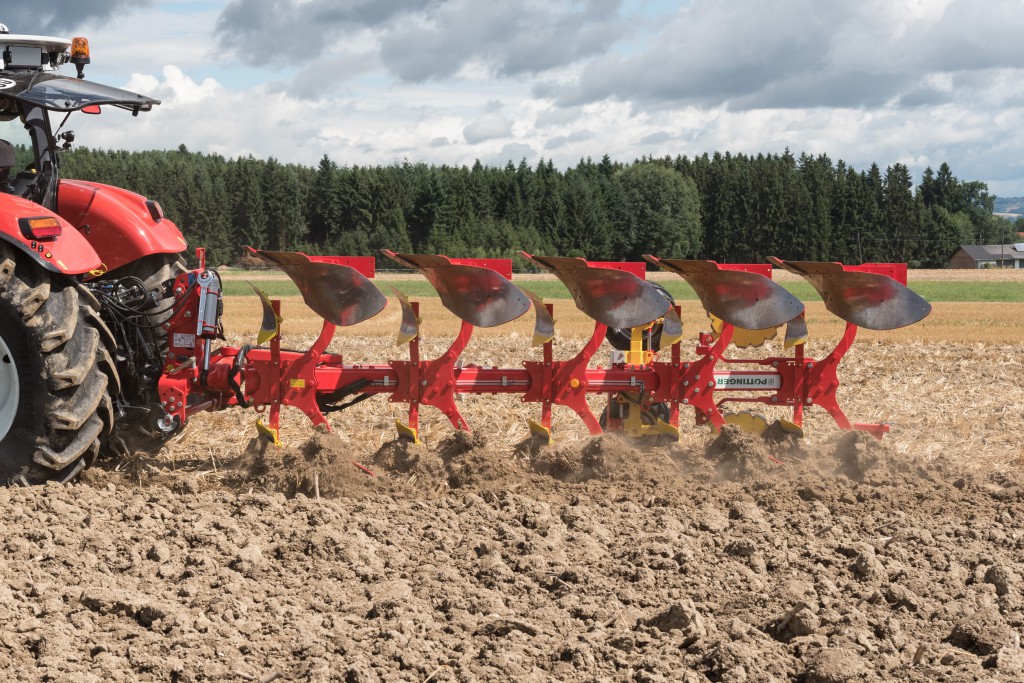 Pöttinger SERVO 45 M
Economical and convenient for tractors between 140 and 240 horsepower
The plough plays a major role in modern arable farming. In addition, no other machine is required to be so flexible (dictated by widely varying soil conditions worldwide). Requirements are constantly changing due to more modern tractor designs with new implement mounting geometries and an increase in tractor power-to-weight ratios. Pöttinger takes these new developments into consideration with the new SERVO 45 M plough series. These new, user-friendly mounted ploughs replace the previous SERVO 45 models and have been especially developed for the 140 to 240 horsepower class. As a result, Pöttinger has significantly raised the bar in terms of flexibility and now offers a tailor-made solution for tractors up to 240 hp. That is pure efficiency.
These new mounted reversible ploughs will be available in December 2017 as 4-furrow and 5-furrow models. These ploughs are offered as PLUS (with hydraulic furrow width adjustment), NOVA (with hydraulic trip legs and a triggering pressure of 1,900 kg) and NOVA PLUS versions.
The hydraulic overload protection of the NOVA trip leg system offers an adjustable triggering pressure of up to 1,900 kg to protect the plough against damage and ensure non-stop ploughing.
The new series is available with an inter-body spacing of 95 cm or 102 cm and an under-beam clearance of 80 cm, or 90 cm as an option.
High efficiency
The TRACTION CONTROL expansion module enables the weight of the SERVO 45 M to be transferred to the tractor. Transmitting force through the Traction system optimises the ground tracking of the plough while applying a permanent load to the rear wheels of the tractor.
Wheel slip is minimised and fuel consumption reduced by up to 2 litres per hectare. That is pure efficiency. In addition, harmful smearing of the rear wheels is reduced and the soil protected. At the same time TRACTION CONTROL enables improved ground tracking and therefore a more uniform working depth compared to conventional systems, because the top link pin can operate permanently in a slotted hole.
There is also no need for ballast on the rear wheels of the tractor: a front ballast weight is enough because the weight of the plough is transmitted so that the rear tractor wheels are under constant pressure. There is no increase in axle weight when driving on the road, as would be the situation with wheel ballast. This ensures a higher level of safety in traffic.
The weight applied to the rear axle of the tractor is infinitely variable and can be adjusted hydraulically between 600 and 1,500 kg without leaving the cab.
The new SERVO 45 M has a reduced number of greasing points to minimise maintenance requirements. In addition, all replaceable bar points feature armouring as standard, making a considerable increase to their service life and cost effectiveness.
Quick and flexible mounting
Tractor mounting geometry continues to evolve with tyres getting larger and tractors becoming higher. Accordingly, Pöttinger have adapted and optimised the geometry of the new SERVO 45 M to precisely match the dimensions of new tractors.
The higher headstock with four-fold adjustable, category 3/3 or 3/2 through axles always ensures the right position on the tractor and the optimum lifting height. Four top link positions, two of which are slotted holes, add to the flexibility in mounting options.
Straightforward and convenient: the SERVOMATIC control centre
Thanks to the SERVOMATIC control centre, setting up to match the tractor is easy and logical. No fine adjustment is needed so that the main setting on the SERVO 45 M is especially convenient. The optimum setting system ensures the perfect set-up for all types of soil and the low draft of the SERVO 45 M in all operating conditions. The furrow width of the first body and pulling point can be adjusted individually without affecting each other – a major advantage, especially with SERVO PLUS hydraulic furrow width adjustment, which guarantees 100 percent synchronisation of the first furrow width and the pulling point. No compensation or re-adjustment needed. Only a couple of adjustments are needed to ensure that the plough slices easily through the soil without crabbing.
On the PLUS and NOVA PLUS versions an optional hydraulic frame pivoting system is available; recommended for the 5 and 6-furrow versions for the following advantages:
tighter rotation funnel for more stability and greater ground clearance when reversing
safer reversing (especially on slopes) by pivoting in – reversing – pivoting out
lower load on tractor and plough.
Thanks to the large selection of different mould boards, from short turning mould boards to long drawn-out furrow bodies to slatted mould boards, every customer will find the ideal shape for their application.
With 100 mm less extension and a forward-mounted (mechanically adjustable) double depth wheel, the SERVO 45 M is also perfect for fenceline ploughing.
High strength and a long service life
The reversing axle on the SERVO 45 M has a diameter of 130 mm and the beam link is a casting, rather than being welded. This makes the design stronger from the headstock to the reversing unit and plough beam tube. The proven reinforcement web inside the tube increases the bending resistance by up to 25 percent to form a robust unit with high strength and extended service life. The full-length main plough beam bearing that carries the beam tube ensures the best distribution of force and meets all requirements for tough operating conditions. The use of high tensile strength materials enables higher driving speeds and a longer service life. A solid cast yoke, high strength reversing axle and full-length main plough beam with reinforcement web ensure the superior performance of the SERVO 45 M.
Pöttinger sets new standards in terms of paintwork quality. All components are dip-primed and powder coated. This provides the best possible corrosion protection to ensure customers maximum resale value of their machinery.